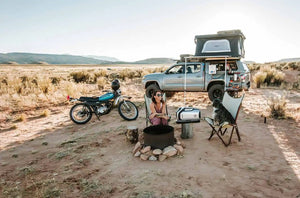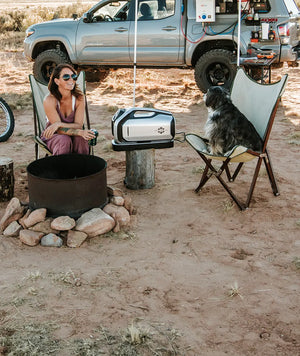 Make the world
a little cooler
Think Different
In 2014, our founder Max went on a camping trip. As he was sweating in the heat, he questioned why there is no suitable outdoor air conditioning for outdoor camping, especially in today's technological age. After research, Max realized that such demand exists, so he built a team to explore solutions.
In 2016, we designed a first real portable battery-powered air conditioner and gained support from through crowdfunding on Kickstarter. We far surpassed any of our expectations in fundraising. In 2019, we learned from the first generation experiences and mistakes and launched a more mature and better true battery-driven air conditioner, the Mark 2.
Luckily, the industry's top-grade professional suppliers cooperated with us and helped us along the way.
ZERO BREEZE was deeply influenced by "Apple's Think Different," the innovators, the dreamers; and our designs embodied this very spirit. We build for adventure, creating memories, and daring to disrupt the status quo.
Our Vision
To ease outdoor living with innovations.
SPECIAL PATIENTS
Simple and portable air conditioning allows special patients to get out of the house.

"I have a little boy with a very rare disease called Erythromelalgia and this could be a life saver" 

"I suffer from some of the most painful diseases known to man, and have been abandoned by healthcare in many ways... in short, they leave me homebound and am unable to get any help, even basic meds to make walking and family visits possible are denied to me.... "

"the one thing I need to be able to have some comfort outside my house is something that can supply cold air to my head and neck that are a mess of pain-(stabbing, swelling-(headaches and neck), uncontrollable temperatures-(heated face, head, and neck) that heat only increases the suffering..."
OUTDOOR ENJOYMENT
Reduce discomfort in the outdoors so families can enjoy nature together.
"Was wondering if you can help us with our build? We are a nonprofit that help family's affected by childhood cancer. We teamed up with CVT for a rooftop tent, Datin for a roof rack, REI for camping gear, as well as other company's. Your product would be amazing for this family since Connor's still needs a break from the heat. Conner is doing amazing now and ready to get back on the trails. He is 6 months cancer free. Dad bought a truck and we are planning on hooking him up with a rig that the family would only dream of. Camping was a huge part of their lives and we want to help bring it back to them. If you could help us out that would be amazing."
OUTDOOR WORKERS
Outdoor workers in a constantly changing environment can cause inconveniences for workers. The Mark 2 is easy to use and set up, with portable features that reduce costs and energy consumption.
"Our purpose in purchasing the product from ZERO BREEZE was to help enhance the performance of our AC unit in our ambulances. Our AC unit is serviced by a reputable Auto Mechanics shop in our area, but as the CFO of our company stated and I can assure are not actors or retired rescue. Our area the temperatures reach in the 100's which feel as if it is 110 outside and in the ambulance the temperature can be hard to regulate sometimes so we purchased the ZERO BREEZE to give that extra boost as well as to make sure that our patient's as well as our staff are cool and taken care of. "
2019
Learn from experiences and customer feedback
In 2019, we learned from our experiences to upgrade the first generation and introduced a more mature and better true battery-powered air conditioner, the Mark 2.
With a completely new product, we are leading the revolution in outdoor air conditioning through exhibitions and application exploration across a variety of industries.
2020
Professional air conditioning research and development institutions and manufacturers
We collaborate with a variety of professional structures and advanced professional research and development. In 2020, special inspection and production standards will be established. We also set up a special laboratory for battery air conditioning.
2021~2022
A step towards creating a more diverse range of outdoor products.
After two years of hard work, we have finally put ElecHive on the market. Finding a balance between size and capacity was a technical challenge for us. The ElecHive is a small-sized power station with a capacity of 2,500Wh, an MPPT of 1,250W, and an output of 2,200W. This is not only the best power supply for the Mark 2 but also for your off-grid life. We are dedicated to technological innovation for outdoor living, creating better solutions for outdoor conditions.